I'm woefully behind on blogging in more ways than I can begin to even think about or describe 😀 This one is long overdue but not through lack of adoration of the particular product 😀
The lovely Three lent me a mifi mobile broadband doodah to try out while we are away in Devon. We rely a little bit on having internet access while away, as the businesses can't be left entirely to run themselves, and the particular network our phones and dongle run on are worse than useless out on Dartmoor. We'd seen that a family member had a Three driven iPad out there, so thought it had to be worth a go. We didn't expect it to work at our holiday home itself, which is in a valley with a lot of granite about (and it didn't) but hoped it would give us a better connection from near by.
I have to say, it was an extremely positive try out. The connection was massively quicker than my other connection, so much so that while stuck in the Bank Holiday jams I was able to look up traffic news easily (although slightly wished I hadn't….)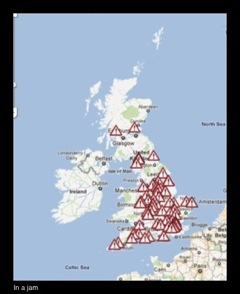 and I photo blogged through the week from every peak of Dartmoor, often having a connection when my iPhone couldn't otherwise get one. The interface is intuitive (except for the message icon, I never worked that out) and it is easy to dial in and see usage at a glance. It charges quickly, connects quickly and I was impressed when I got home to see the tariffs. We are seriously considering dumping our home broadband for this instead. Connecting my iPhone to it improved battery life of my phone by a good bit too, as it wasn't trying so hard to maintain a signal.
In fact the only negative thing I can think to say about it (except that it isn't mine!) is that the front screen seemed to scratch a little easily. It was already used, so possibly I didn't do this, but given I was quite careful about keeping it in a separate bag pocket etc, I was annoyed that I managed to rub a patch on the screen. But to be honest, that isn't going to change how I would use one. I'm so impressed, I'm resolving to get future phone contracts on Three instead of our current provider.
Thanks Three; we loved being lent this and the free usage you provided and we are now heartsworn followers of your rise to power 😆