it's that time of year… the tinsel is singing quietly from its box and you know, just know, that any minute now you are going to be humming carols. (Shhh, you at the back, I know you have already started!)
The kids are tied to the house at weekends because the weather has turned just dreadful and you need to find some festive cheer (I know I do, I wrote about it yesterday) and one thing you know will keep them quiet is some crafts.
Oh yes, it is time for the Hama Beads to come out. So in collaboration with my very own shop, I'm giving away this lovely bundle of top products to keep them (or possibly you!) quiet this winter.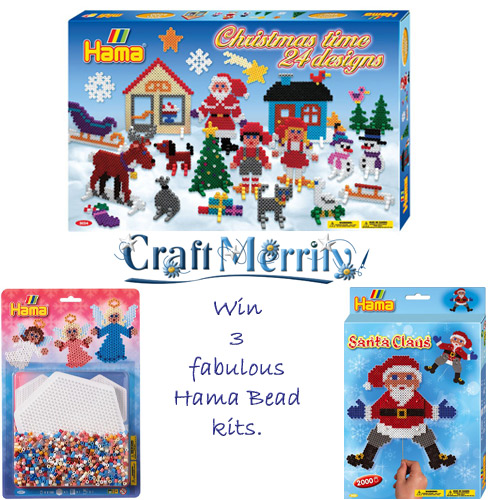 There are lots of options to enter but only the top two are mandatory. Click on the picture above and it will open a new window so you can have a look at our range and see what you like. We're a small business  of 11 years old making our way determinedly in an increasingly tough online market and we'd massively appreciate it if you'd let people know about this giveaway.
Terms & Conditions.
Open to UK entrants only aged 18 and over.
Entry into this giveaway confirms that eligible participants are in acceptance of the terms and conditions set out below and in the Rafflecopter widget.
We reserve the right to accept entries where the wording of the tweet is not exactly as above, so long as all other criteria are met.
Entry is as per the Rafflecopter widget and is one per person, excepting daily tweeting. No bulk or third party entries accepted.
The competition ends at 12am 22th November, as per the widget.
Prize is 3 Christmas Hama Bead Kits from CraftMerrily as pictured above. The winner must disclose address for postage to MerrilyMe by 5pm 24th November 2014.
This giveaway is related to MerrilyMe and CraftMerrily only and not the responsibility of Facebook or other social media channels.