One of the nice bits of blogging in recent years is undoubtedly the opportunity to work with brands – and one of the responsibilities is to try and work with brands that mean something to you. I've learned that along the way, no doubt and had some great fun doing so. Some brands, mostly ones that now feature in my sidebar, are brands I do have fun with but which I also believe in; places I've holidays, products I really do use.
Of all of those, Britax is the one I have the greatest history with. A Britax car seat accompanied every one of my girls home from hospital and it is the only brand of 5 point car seat I have ever bought. I say the girls, because the boys would have had the same brand but instinct stopped me buying a carseat for Freddie (I borrowed one which was of course never used) and a friend brought one to the hospital for Bene after fear stopped me from buying one in advance for him.
As soon as he was heavy enough for one, I went out and bought Bene a Britax carseat. It was the only one I could afford at the time from their range, which limited my choice to some extent, but I trust the brand, trust the design and made my decision based on that.
Here they are, Fran and Maddy in the car seat I did admittedly choose at least partly for the fabric 😉 Brand awareness was so much less strong back then but I did know about Kiddicare, who at the time were a small shop just tucked into a street in the north of Peterborough and I trusted them. They told me to get a Britax, so I did.
We got a new one for Amelie.

And despite Amelie and her lack of sleep/eczema/asthma/sheer Amelieness nearly putting Max off having more kids, Josie got to use it too 😆
Josie comes home. Honestly, it was 2004. Will you look at that brand placement in the photo 😉
There is lots of choice on the market today; forwards facing, backwards facing, 5 point and (and can I just say they terrify me and I wouldn't even consider one) seats which don't have straps but wedge the baby in with a sort of thick impact bar instead. For me, I stick with what I know; I'm comfortable with a five point harness, partly because I've always used them and it seems right (although not necessarily scientific!) to keep to the same for all of them. There is some variation in research and it seems to come down to the wedge seats having some benefit in a front/rear collision (slightly less whiplash risk) but being less safe if the car rolls than a five point harness, with at least one test showing a baby could come out of the seat altogether. There is a good review at MotherGeek who makes the point that both designs have been approved for safety by the powers that be and has photos of her child in both types.
Can I just say, how very discomforting that the statutory test used to approve a car seat for safety might do it as a static roll rather than while moving? What on earth is that supposed to prove?! I prefer the honesty (while allowing for the fact that they are testing an opposing brand) of the Britax video which is a moving car. I will link to it, but their site is down today!

Anyway, we drive a tall people carrier, which I have in fact almost rolled a version of once, so I'm comfortable that 5 point harness is better for us.
In terms of backwards and forwards facing, the most stressful part of having Bene in a car for me was that I couldn't glance at him while I was driving while he was in a backwards stage 1 seat. I was terrified he would just stop breathing and if I was alone in the car with him, too much of my attention was focused on listening for him all the time. I know lots of people prefer toddlers to sit facing backwards, but it was in all our interests for Bene to be visible from the drivers seat as soon as possible and lots less stressful for the girls since I stopped having to ask them to check he was breathing all the time.
Luckily for Bene, at this point lovely Britax asked me to become an ambassador for them and offered me an updated version of the Versafix Stage 2 seat to review, something I've been excessively tardy about doing! The Versafix, roughly x1.3 the cost of the one I had just bought for him from an older range at £225 was the new, all singing and dancing and generally rather pretty Isofix stage 2 seat which had just arrived. We passed on our new-but-old-design to a lovely friend of mine who was expecting again.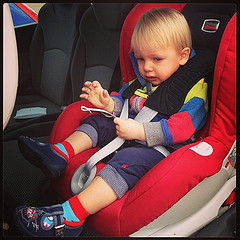 Isofix is new to me since the last time I was buying these sorts of car seats. When Josie had one, the only option really was to buckle the seat in using the ordinary safety belt. This has always worked but it did make me nervous, not least because it wasn't hard for another child to accidentally release it without an adult noticing. Since then there are now seats with a sort of extending foot that sits on the floor in front and holds it steady and seats that attach to Isofix bars rooted in the innards of the main car seat in new cars. Our car only needs the seat to be attached in this spot, rather than also requiring a third point which is a belt that fixes over the top and into the boot.
I love the safety aspect of this. The stage 2 seat ratchets into the car and clips fast, making it rock solid and impossible to remove unless you are daddy. (He does swear at getting it in and out a bit but he has so far remembered how eventually each time!) You can still belt it in quickly if you need to – such as when I used it for a taxi a while back – but for normal use, it feels so much safer to be clipped in.
Important but less essential, the seat tips back comfortably or sits up straight, the straps are comfy and easy to use – and he hasn't wriggled out of them  – and it's nicely padded and a pretty colour and it buckled and adjusts easily. The only thing I have left to do is take the cover off to wash it, but I can't seem to find a car ride free day to get that element tested out.
There is no doubt we are on the home run now when it comes to buying car seats but I can pretty much guarantee I will have Britax in my car for the grandchildren. (Did I really just say that?)
Disclosure: we received a Britax Versafix in exchange for this review. Views are our own.