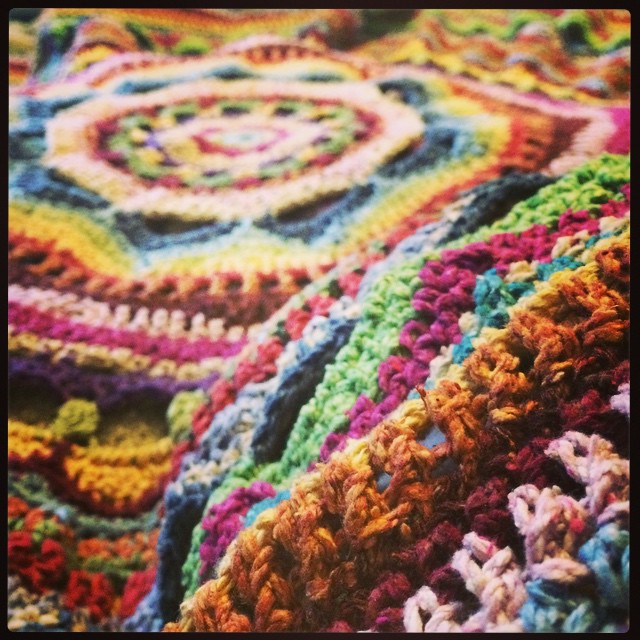 I'm entirely artistically inept, with no ability to put pen to paper or paint on canvas and conjure up a world of sensory delight.
If my art lies anywhere, it is probably in words.
When it comes to colour, the theory isn't in my head – at least no further than that half completed colour wheel I failed to hand in on time in 2nd year. Orange and Blue, Red and Green, Purple and Yellow.
And design is perhaps not my strong point either; I'm impatient, hurried, a botcher of work and a shover in of ends. Completer finisher has never been my strength
But making, learning to wind colour together using simple stitches, now that has opened up a world of colour magic possibilities to me. My under bedside is stuffed full of boxes bursting our with balls of colour waiting to be turned into something beautiful – or beautiful enough for me. I've taken to having baskets of yarn I like and colours that might suit a project soon scattered around the house – and it is funny how much even a basket of potential project can turn into something that lifts and room and adds a spot of jazz.
The husband calls it crochet mess. I call it installation art 😉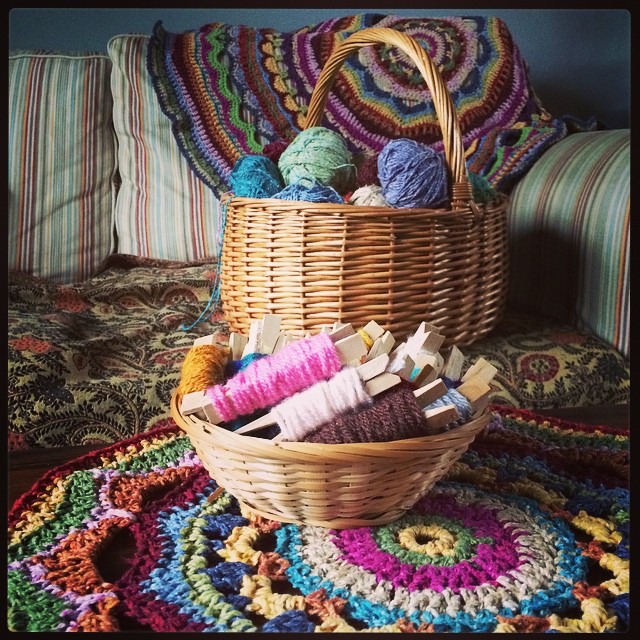 I've always been rather staid in colour choices, overly tasteful for fear I'll overdo it (as previous attempted dramatic decor has had a tendency towards) but learning to let go in small and recoverable makes has unleashed such delight in colour.
It's unleashed the artist in me, just a little. I'm rather nervous of her and keep expecting her to get laughed at. Ever since the wild sanity blanket, I've tended to stick with muted shades and grown up designs. And funnily enough, it's even teaching me to finish what I start. I still tend towards throwing colour together in an artless jumbled but these days, more often, I'm pleased with the result. I'm even starting to have the nerve to work out my patterns properly and share them. The riot of colour in this mandala is the biggest 'let go' I've ever done and the first time I've ever  had the confidence in my design to get people to try out something I've made.
The Fritha Mandala is currently in testing with some friends. It's almost like having a baby. A very colourful one.
This post was written for The Gallery.