It's hard to believe The Gruffalo is 15 years old, though in fact he came into our house rather later than for most and has only really been a hit with Bene, who shuns almost every other author for Julia Donaldson books. Josie however was a big fan of several of her books as were the older girls at various times. Tiddler, speaking in a Liverpudlian accent, is known by heart by everyone in the house!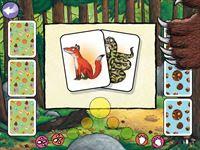 We were offered the chance to look at The Gruffalo: Games on the iPad and it perfectly filled up an afternoon for Josie, who was home ill. Three in a Row, pitting mouse against Gruffalo, Snap, featuring the animals from the story and some other images and Nut Catch where the Mouse has to avoid the spikes and catch the nuts (you guessed that, right?) were all big hits with her, despite being nearly 10. Bene has since had a go and, despite being not yet 3, hasn't struggled with it at all. (Really, the ability of little people to use technology is incredible I think).
What they thought: Josie said the sounds and artwork on it were really fabulous and she enjoyed it, rating it 8/10 even though she is quite old now and saying if she was younger, she would definitely have given it 10/10. It's a hit with Bene.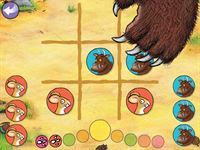 What I loved: true to the images and feel of the book, simple for young users but still engaging for the older one, good for learning simple skills needed for next stage games and not a game that forces the constant cancelling of in app purchases.
Conclusion: At £2.99 it isn't a cheap app but I do think it has wide appeal and real longevity too. The characters appeal instantly because they are known and love and the game play doesn't involve shrieking or frustration, which is all good in my book. I like it enough that I plan to buy the Room on a Broom one too, also from Magic Light Pictures. The games are available on iOS and work happily on both our 7 & 8 installations.
"All was quiet in the Raymond House. Josie tried the app and the app was good!"
WIN!!!!!! A 15th anniversary edition of The Gruffalo book, DVD, plush toy, puzzle, stationery and the app – worth £50.00.
Terms & Conditions.
Open to UK entrants only.
Entry into this giveaway confirms that eligible participants are in acceptance of the terms and conditions set out below.
We reserve the right to accept entries where the wording of the tweet is not exactly as above, so long as all other criteria are met.
Entry is as per the Rafflecopter widget and is one per person, excepting daily tweeting. No bulk or third party entries accepted.
The competition ends at 12am 19th October, as per the widget.
Prize is A 15th anniversary edition of The Gruffalo book, DVD, plush toy, puzzle, stationery and the app – worth £50.00. The winner must disclose address for postage to MerrilyMe (which will be handed to Lucy at Spirit PR for despatch) by 5pm 20h October.
This giveaway is related to MerrilyMe and SpiritPR on behalf of Magic Light Pictures only and not the responsibility of Facebook or other social media channels.
By entry you understand that the prize is in the hands of the PR company and not in the hands of MerrilyMe. Despatch and responsibility  for the safe arrival of the prize lies with Spirit PR.
Disclosure: We received a free download of the app for this review.