People ask me quite a lot why I didn't stop after one or two children. The queries are endless; do I have a  TV (yes, but seriously, there is never anything on…) or did I keep trying for a boy (no!) and of course, am I religious or a glutton for punishment and have I definitely stopped now? (YES!) From horror at the cost or invasion in my life to surprise and envy, I get them all.
To be honest though, there wasn't much of a plan, other than to be like Joey Maynard of the Chalet School .By the time I thought about it, it was too late to alter the situation. 🙄  If I'd known, I might not have timed them so A Level, AS Levels and GCSEs will all happen at once in 2 years time, but it's too late now.
I asked the troops and here are the reasons they thought it was okay for us to have 6 kids. (Max added the child benefit as a plus, but I'm not convinced that one adds up as a plus overall!)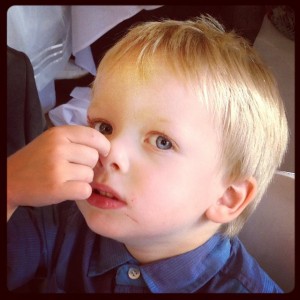 Ten: It's completely brilliant training for being a hostage negotiator as a career when they're all grown up.
Nine: It takes a very few Christmases before your home is completely filled with every toy in every possible permutation.
Eight: You never (ever) need to worry about what to do with spare cash.
Seven: You can totally justify rebuilding your My Little Pony collection from eBay.
Six: There is absolutely no reason at all to miss a Peppa Pig episode. You WILL see them all.
Five: Your chances of getting a cup of tea brought to you in the morning greatly increase.
Four: At some point you will find yourself with footage to send in to You've Been Framed!
Three: The 'Hunt the Remote Control' fun never ends.
Two: There are always people to tidy up the mess they create. (I see a flaw in that though, tbh…)
One: (As contributed by Maddy)… more chances of getting a nice one!
And of course the bonus is that you'll always have something to blog about. What's your best reason for having kids?